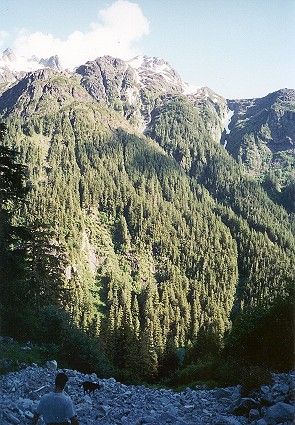 Cross Mountain
Medvejie Lake is overshadowed by Cupola Peak (locally known as Cross Mountain) on the southeast and Bear Mountain on the northwest. These mountains steeply rise over 3500 feet from the lake surface to their peaks.
The rocks at the lower part of the picture form a large washout which goes all the way to the edge of the lake. I have never seen more than a trickle flowing through the rocks, though it is clear that there are times when a large torrent roars down to the lake. The lake can just barely be seen through the trees. The rocks and snow which can be seen near the upper left of the image are a part of the upper peaks of Cross Mountain which are just shy of 4,000 feet.
Casey Demmert, Randy Nutting, Troy Etulain, Ce'Nedra, and I went out to Medvejie on a beautiful Sunday afternoon the summer of 1996 shortly before Troy left to spend two years in the Peace Corps. While there we decided to hike up the washout to see if it was possible to utilize as a way of getting up to Bear Lake.