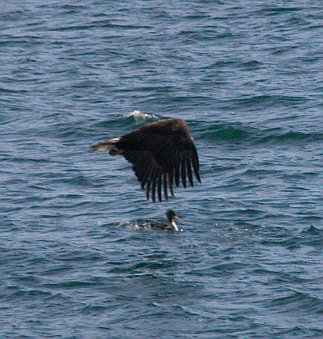 Interested in College in Alaska?
Merganser Family Crisis
Mergus merganser
It appears here that the eagle has a chance at the mother, but I think she went under water before the eagle make a grab. In the end, the mother's efforts to get her young to dive down appeared to be successful. After a few minutes, the eagles seemed to lose interest and the mergansers were able to continue across the bay.
Location: Jamestown Bay, Sitka, Alaska
Previous: Merganser Family Crisis (Mergus merganser)
Next: Connor